When we started the kitchen renovation, I searched high and low for a kitchen island that would work in the space. Our kitchen isn't huge, so I didn't want something that felt too heavy or took all the attention away from the rest of the kitchen. I had a hard time finding exactly what I wanted, so instead we decided to just build the island ourselves. Lowe's sells precut butcher block tops which was the perfect start to our island! I loved using the iron pipes for the base. They matched the style of the shelf brackets and the simple design felt complementary to the rest of the kitchen. I think it was the perfect fit! Try it out yourself!! This idea could also be used for a dinning room table or coffee table.
Materials:
Precut Butcher Block 25"x48"
4 x 1"x30" Black Iron Pipe
6 x 1" Black Iron Tees
4 x 1"x8" Black Iron Pipe
4 x 1"x2" Black Iron Nipple
1 x 1'x36" Black Iron Pipe
8 x 1" Black Iron Floor Flange
2 x Rust-oleum Paint and Primer In One flat black spray paint
Valspar Flat Premium Finish Spray Paint
Watco Butcher Block Oil and Finish
Screws
Drill
Rag
Sanding block
Directions:
1. Gather all your pipes and pipe fittings. Clear an area so you have room to work. Work on attaching all pipe fittings and pipes together to create the base. I started with the middle 36" bar and worked out from there. Although they're standardized, precut pipe, there is always some variation in threading. It's a pain but if you know that going in- it helps. Make sure you gently tighten pieces at first, remembering that you'll need to loosen and tighten some of the connections to get matching lengths later on.
2. Add tee fittings on each end of the 36" pipe. Followed by the 4, 8" black pipe pieces in each end of the tee fittings. Set aside this "I" shaped assembled piece.
3. Work on creating the 4 legs. The order will go flange, nipple, tee, 30" pipe, flange. Repeat this 4 times to get the 4 legs of the island.
4. Attach each leg to the middle "I" piece to finish the base.
5. Tighten or loose connections to make all legs the same height. It takes a bit of finessing!
6. In an outside location, spray paint the entire base with the flat black spray paint. When completely covered and dry (may take 2-3 coats) spray a top coat of the premium finish spray.
7. Place butcher block on top of pipe base. Drill screws through holes in the flanges into the butcher block to secure together.
8. With a rag, follow directions on the Watco Butcher Block oil and seal and finish the butcher block. Will take 2 coats, with a light sand in between.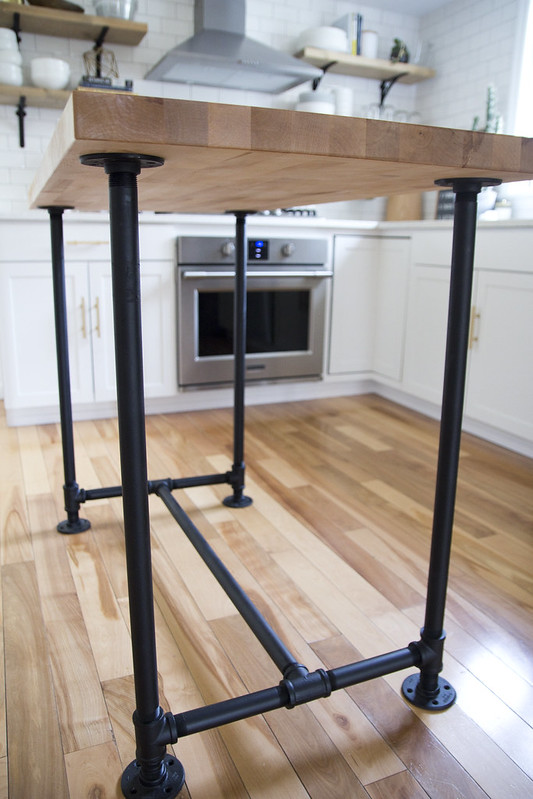 Note: This makes the island 37" tall. I wanted a slightly taller island for ease of food prep but you will have to plan accordingly for stools. A counter height stool is a bit too low and a bar stool is too high. The answer is a stool with a swivel top! We wanted them anyways because of the kids, now everyone can adjust their stool height to be perfect for them. I like having mine low so I can cross my legs and I raise Finley's way up so she can be close to the butcher block. Works out great! Our stools were from Urban Outfitters.
This post was sponsored by Frigidaire Professional and Lowe's. All opinions and pictures are my own.