I think it's safe to say we created a little fashionista out of Rowan. It's not surprising though, I obviously like fashion a lot and over the years she's seen me taking a lot of outfit photos for the blog. Many of which she's been a part of as well. As she gets older though, I do let her call the shots about whether or not she wants to be in the pictures for the blog. When I asked her if she wanted to do her very own What Rowan Wore post for today it was a big "YES, YES, YES!" though. 
We teamed up with Stride Rite to introduce you to their new Surprize brand exclusively for US Target locations and Target.com. Since Rowan is all girl (I like to say she is more tomboy princess though) she was in heaven getting to go to Target and try on all the shoes and pick out her very own pair. It was no surprize (wink. wink. see what I did there? Boy, I'm funny) that she went with the pink and purple sparkle running shoe. They fit her great, are super comfortable and totally practical (and durable!) for the playground and running around. Now that's the making of a great kid shoe!
Rowan knew exactly what she wanted to wear to show you all her new shoes. I think it's about the cutest little outfit ever. I am especially fond of the tall socks that she matched to the shoes with their purple polka dot tops. Oh man, I love that girl! It's fun letting her express her creative side with the clothes she chooses.
Which Surprize shoe would your little one love the most?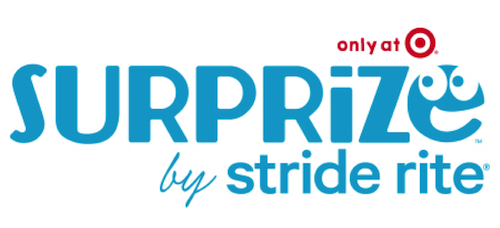 Shop Surprize by Stride Rite and find more styles here: Surprize for girls // Surprize for boys
This is a sponsored post written by me on behalf of Stride Rite. All opinions, words and photos are 100% my own.