We were in maui for 2 days and we have lots of pictures so there is going to be day one and day 2 as far as posts go. Maui was very beautiful!! The first day we rented a car and drove along the coast of the island on a road called "The road to Hana" the road is a tourist attraction in itself because it is so long and whindy. It gets very very narrow in spots and becomes a 1 lane rd over many many small high up bridges. It is terrifying in some spots, well is was to me. I am an already nervous driver because as most of you know i have been in one to many accidents. Now put me in a car on a road that is hanging off the side of the mts. that is one lane with the locals driving toward u in their jacked up giant trucks 20 miles faster than they are suppose to be. There is no where to pull over except to roll off the mt. lets just say my knuckles were white the entire 6 hours it took us to drive it and back. Scary-ness aside. The views and beachs and waterfalls are amazing and well worth being scared of the rd. We got to hike waterfalls and climb thru lava tubes and sit on a black sand beach. This side of the island that were were on was so country, for the entire 6 hours I think we saw 1 gas station and 1 small grocery store. There is nothing out there and i mean nothing. That night as we headed back to the town the boat was docked in we stopped in this cute town to walk around. When we were getting out of the car we saw a mom with dreadlocks i didnt really think vey much of it, but as we walked around the town, i think me and kev could have been one of the very few people that didnt have dread locks. It was the hippy-est town i have ever been in. It felt like a tropical vermont, but worse. It was crazy.
ok on to pictures…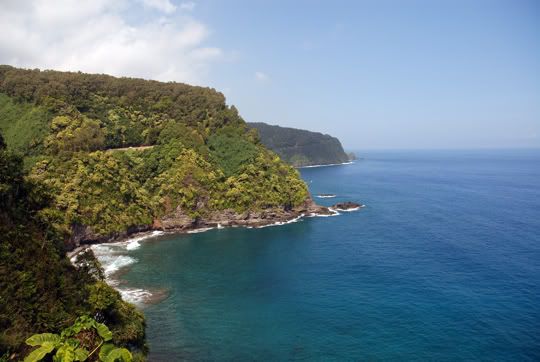 this was the nicest of the many one lane bridges we went over, most of them were old wood…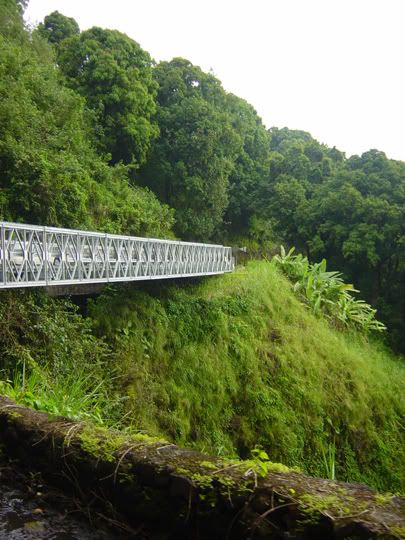 you cana see the turns

if you look you can see the rd we just came from as it snakes down the side of the mt.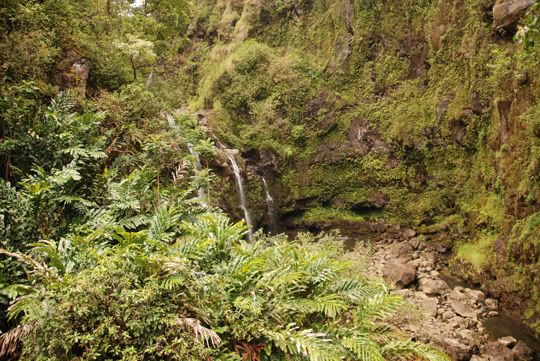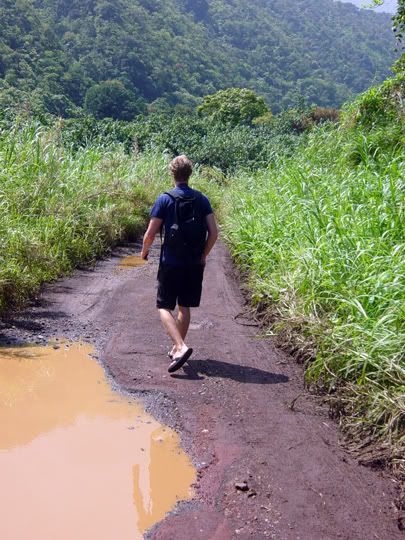 here we are the the black sand beach. Every rock around there was jet black

lava tube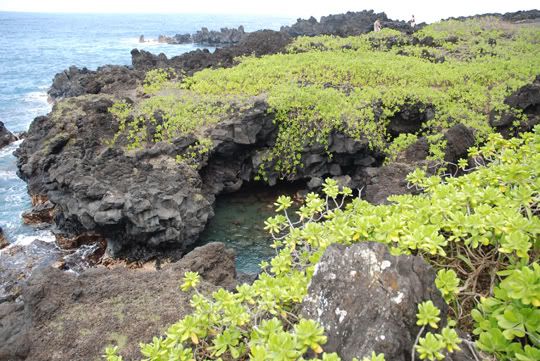 lava tube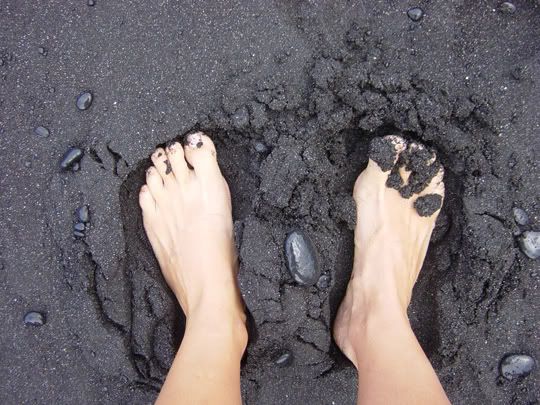 here we are at sunset.

this is actually on the second day as we were pulling out of port, it was awesome cause we saw whales jumping and flapping tails and fins all around the boat. Its humpback whale season in hawaii right now.