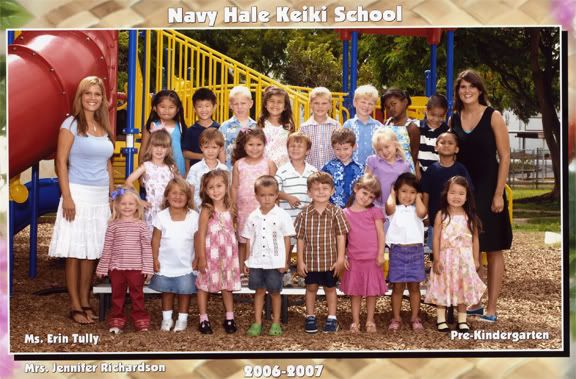 so here is our class photo. haha its funny.
anyways we had a good weekend (long weekend!!) on friday when i got to come out from the computer room kev had gotten dinner and bought SAVED BY THE BELL seasons 1 + 2. so we spent the evening eating and watching save by the bell which is such an awesome show. Since this is our very first place we really just enjoying hanging out here. It was alot of fun.
Saturday was my mary kay facial party. haaha i didnt get pressured into buying anything but i since i wasnt buying anything i couldnt say no to having a make up party here next saturday. so now all 4 of us have to come to a make up one now.
Saturday night we went to a jillians type place in honolulu to meet a friend of kevs from college who weirdly enough i went to high school with.
sunday we went to thebeach with a guy from kevs work. we got to jump off the big rock again so that was fun. Kev swam with turtles and we found huge turtles laying on the beach and about 10 of them right in the water at the shore. It was sweet!!!! Sea turtles are so crazy looking and they are everywhere here.
casey is coming in less than 2 weeks we are very excited about it.
i decided to train to run a half marathon.
im starting my training today.
The honolulu half marathon is in april and i want to run in it.