hi everyone
i figured i would write a more thru update then just post some pictures. Well its the middle of sept already I cant believe it, yesterday me and kev were married for exactly 3 months. crazy huh? It weird cause there is no real season change so it still feels like the middle of the summer. I have lost my sense of what time of year it is. It must get weirder as it gets later and later into fall and than winter. We are going to have our first visitor (if no one shows up before than) in novemeber. My mom is flying in November 8th and I am soo soo excited. I can not wait. Everytime we go somewhere and we think its cool we always say we cant wait to bring someone here to show them. Its been very very hot here lately and humid. I keep waiting to feel this coolest breeze that people say comes in the fall, but no luck yet. I think it doesnt come till the end of october. I mean its not cold here its still 80 everyday but I think at night it cools down and during the day its not humid and just perfect. I want it to cool down more at nights I want to wear a sweatshirt so bad. I miss wearing them. I found a sweatshirt zip up thing that other day that a big hood on it with no sleeves and I though this solved my problem. It was sleeveless so i wouldnt be hot but it had a sweet hood on it so i could wear it and pretend to be all cuddled up. I bought a robe the other day at walmart so when i got in my pjs i could wear it and feel like i was wearing a sweatshirt but its real thin and it doesnt really cut it. I found this sweatshirt robe ( below) in american eagle the other day and it was so sweet. It was on the clearance rack and threre were a hole row of mediums but I couldnt justify getting it. It would be so nice to have. It was so comfy. It was like a big hug…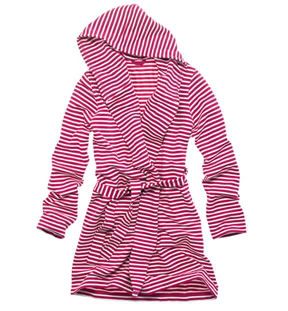 people may be wondering why on earth is she talking about sweatshirts so much, well i love them, the richardsons would make fun of me for wearing them in the summer or walking around with a hood up all the time. but ok ok ill move on.
kev got a new job he started working last wednesday. He got a job where he can walk although he skateboards to. It is seriously just down the street. Its at a screen printing shop. It really just worked out perfectly, he is working with the press and oven and also designing shirts for the clients. He has one due tomorrow that was suppose to be for girls in the age group of 18-24 and be sort of a surf style shirt that said hawaii on it. He designed one yesterday and it came out really awesome. He should feel really good about it. He comes home for lunch and if i leave work on time I usually can met up with him before he goes back which is nice.
Work is going good for me, its not the greatest but I think i can mange it for a year. It really hard getting up so early. It thrus you all off for the rest of the day, especially when you want to be on the same kinda time schedule as some one else. I hate feeling so tired and needing to go to bed at 9:30- 10 but not wanting to cause kev is still up. booo
but the kids are great and there of course good days mixed in with the bad. Its a balance.
Its so beautiful here, the water and the mountains. I just dont think I will ever get over how awesome it looks. The pictures that we post arent altered- the water is just always so pretty. Yesterday we were at the aloha towers at some show that was sponsered but the 808 scene zine (ill get to that in a minute) but its like a outdoor shopping area with shops, restaurants/ bars and stuff in it but its right on the water next to the piers so there are alot of boats around. I was looking at this huge sailboat thing last night and i was reading teh flags and banners on it. (It was from canada) but it was a school. It was for high school students to sail around the world for a semester. There were classrooms on the boat and they get to choose what classes they want to take as they sail to all these crazy places. I guess hawaii was one of there first stops. I went to the website it sounds awesome. www.classafloat.com
anyways a while ago kev found this 808scene zine which is this local music/art magazine (its small) looking for help with design, the lady loved kevs work and asked for him to help design the magazine but she also wanted to feature him as the featured artist in the november issue. Isnt that aweomse!!! Well they had an event last night so we went to check it out. The bands werent so great but it was interesting. Well have to get a bunch of copies to send home to show you guys.
ok well i guess thats it for now
peace