LAURA IS HAVING A BOY!!!!!
im soo excited for her, i cant wait to buy her baby clothes and spoil this little baby like crazy.
work has been going ok, its really tough and exhausting and getting up so early is really hard on me but its ok.
Its so frustrating when you feel like you have had to yell at them all day long cause they wont listen and most of them are so cute and i dont like getting mad at them. The other day though it was so funny but i had to bit my tongue so i wouldnt laugh. One of the kids yelled logan colored on his face, so i was like "logan let me see" he turned his face and his enitire i mean ENTIRE face was covered with black marker. It was hilarious but of course i cant laugh cause i couldnt let him know that thats ok to do, but it was funny.
kevs out right now birhtday shopping for me. somethings i asked for were a sewing machine, a longboard (skateboard) although a surf board would work just as well, a bike, some new clothes, new bathing suit, a tattoo, and a super nintendo. of course i didnt ask for all of that but those are some things on a list in my head of things i would like.
it was picture day at work yesterday and i got my picture taken with a blueish background for my id badge, i would have choosen laZers if them, but it wasnt a choice. boo. its funny though its such a high school picture day photo.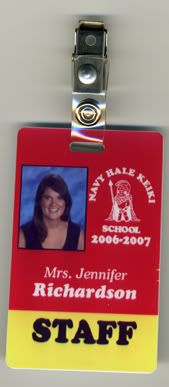 here is a picture of my class. its funny to say "shaka" and have an enitre class of 3 and 4 year olds know what that means ( its that hawaiian hand thing)