yeah its a 3 day weekend for me. Tomorrow is admissions day or aloha day… I guess hawaii celebrates becoming a us state. I think but as long as i get it off thats all that matters. We had to dress up hawaiian today, me of course i dont have anything and i refer to it as hawaiian print when everyone here calls its "aloha" then what ever kind of clothing it is. We went to the swap meet yesterday and I bought a sarong and i wore it at a skirt today.
I keep asking kev to take some pictures of the apt for you guys but we are trying to wait tillwe get some pictures on the walls, but I have one picture of our room, its kinda boring still, but we love it just the same. We have a nice brown blanket, with coral sheets and light turquoise pillow cases.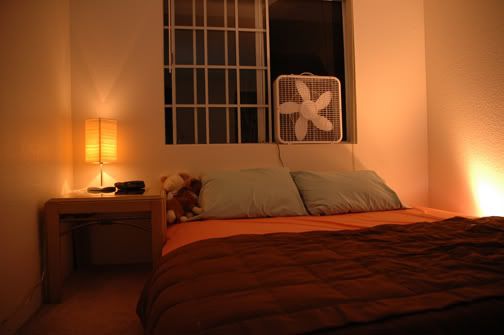 the window fan does wonders, I dont think we could live with out it. We just got another on from walmart for the other rooms. Walmart has been our home away from home. There is a huge one day the road from us and its open 24 hours. No matter what time it is, it is always crazy busy in there. its insane.
kev is off taking pictures right now, and i need to go running before he comes back.
so peace out.